After helping dozens of organizations improve the efficiency, quality, and success of their work processes using an Agile approach, we at AlignOrg Solutions are firmly convinced of the benefits Agile can bring to many companies. However, when we talk about incorporating Agile principles into organization design, we are in no way advocating that companies just choose a few initiatives or tasks at random and start implementing things. Companies need to be conscious about what organization transformation initiatives should come first, which projects will help them achieve their business strategy, and what trade-offs they are making.
How to Implement Organization Change Using Agile Principles
At AlignOrg Solutions, we utilize a series of design sessions, or "sprints," to help companies determine which strategies, capabilities, and organization choices will deliver the greatest "bang for the buck." Each sprint is customized to the organization depending on its needs, but follows this common framework: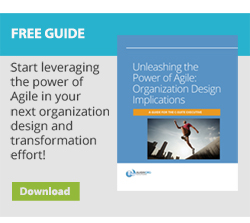 Diagnosis & Assessment
Macro Design Development
Micro Design Alignment
Implementation & Realization
While the framework may be common to all organizations, each step is composed of a variety of smaller efforts that are customized to an organization's situation. This situation-driven customization constantly tests and refines the design to ensure proper market fit, build-out of differentiating capabilities, customer engagement, and attainment of operational results. Each step of the framework involves different teams that work together to create the organization design deliverables.
Diagnosis & Assessment. First, we utilize a broad range of internal employees, stakeholders, and customers to assess alignment discrepancies and problem areas of the organization. This helps identify and prioritize the work ahead. Using our organization alignment model (the Cube Model), organizations can focus their diagnostic efforts to pinpoint any organizational system that is preventing achievement of strategy and/or business results.
Macro Design Development. This step utilizes a cross-functional team of the organization or function's leaders to create a high-level business model and organization design that will address the strategic gaps highlighted in the diagnosis/assessment.
Micro Design Alignment. In the next phase, we utilize teams of subject matter experts to make organization design decisions down lower in the organization closer to where the work actually happens. Micro design, when done well, is where the strategy of the organization is delivered through effective work processes, clear roles and responsibilities, and aligned metrics.
Implementation & Realization. Finally, we build a coordinated plan for disseminating the design throughout the organization and then "inspect and adapt" as needed to ensure the desired results are achieved.
We consider each step in organization design a "product" or deliverable that is independently actionable from its inception. In fact, design sessions and teams often develop multiple products simultaneously. As a result (and aligned with Agile principles), this organization design framework allows for constant iteration at all phases of the work depending on the market and new learnings.
Agile Organization Transformation: Immediate Results, Sustainable Change
This approach to organization design and alignment necessitates high involvement from individuals from throughout the organization and beyond rather than just internal executives. This broad involvement helps ensure market relevance, improve organization alignment, and provide an immediately implementable product.
If you have been wondering how to implement organization change using Agile, consider following these steps to guide your organization down the path of becoming an Agile organization. Rather than trying to follow a complicated formula or recipe, this approach allows for discretion and adaptation that will fit the strategy and culture of the company. Just like an Agile software or product journey is never finished, the quest to adopt Agile principles is never over – it is a continual process that changes and reacts to market conditions, customer needs, and business realities.